Technical Requirements
Making the transition to Class Cloud
We would like to emphasise that the changeover of a system is a major task and that a project leader must be appointed to coordinate users and liaise with all sections in your school and with us at Infospeed's Headquarters. We recommend that time is allocated for discussions and creation of an implementation plan with one of our consultants.
On-boarding and Training
New Customers
When purchasing Class you will be given a standard training package typically made up of 15 hours training for the Core Module and an additional hour for each additional module.
This is a basic training package, not detailed Class training in full. Class is a huge system and detailed questions will slow progress and may mean additional hours are required. We will keep you informed if the training schedule is slipping. Where possible, please allow the team to carry out the basics during these starter sessions.
All organisations train at different speeds and these initial training hours are a guide only. After each training session you will be asked to carry out tasks which assist you to get used to working with Class and allow you to move onto the next section of the training.
If this work is not completed, it may not be possible to carry out the next section of training or may cause a delay. Where engagement with the Class Systems is not regular from the start, it should be expected that the training hours' requirement will be increased due to the need to re-cap on items. In these cases the support team will notify you when you are running out of training time and discuss increasing your training hours (charged per hour or in packs of 10 hours for a 20% discount).
It is the Project Manager's responsibility to ensure that the appropriate members of the team are available for each training session. Please note that we do have limited training slots available and training slots cancelled with less than an hours' notice will still be charged. Late arrival on an online session will result in a curtailed session charged at full rates as we often have a further session to attend to in the next slot.
If you would like a training database/sandbox to train staff without impacting the live database, please let us know and we will be happy to arrange this.
Please note that users are expected to have Windows and Microsoft Word/Excel knowledge. Training on these is not provided.
Current Customers
We have a document which outlines the minimal changes between Class Cloud and Class.NET. There is no particular training requirement but if you have any questions please contact support@infospeed.co.uk.
Once you are installed, all training is handled by one of our in-house training consultants. This includes discussions on the major items in Class and the most appropriate way of setting or entering data to meet the user's requirements.
Technical Requirements
We have chosen to use OVH as our dedicated hardware provider. OVH have multiple datacentres on
a global scale. Our services are spread strategically across datacentres to provide redundancy in case
of catastrophic failure. Being the hardware provider, OVH are tasked with the responsibility of
physically maintaining and securing the servers our infrastructure is hosted on. As such, this means
OVH are in control of ensuring our servers are healthy and available to provide our services to you.
Each OVH Data Centre is equipped with:
– Two separate power sources (UPS Units / Diesel Generators)
– Fire detection and extinction
– MulƟple internet lines through multiple vendors
– Anti DDoS Protection
Class Infrastructure Redundancy:
Within our Private Cloud Infrastructure there are mulƟple points of failover. A very basic scaled
down overview of this is as follows: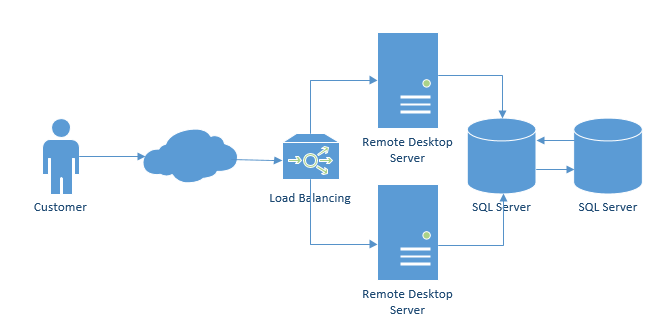 When first connecting to our infrastructure, you will be connecƟng to a Load Balancer. This Load
Balancer will monitor current network and processing load of all Remote Desktop Servers within our
Server Farm, selecting the most suitable Remote Desktop Server for you to connect to.
Should a Remote Desktop Server require maintenance or encounter issues, it can be removed from
the pool by disallowing future logins. In the event of a Remote Desktop Server facing a
Hardware/Software failure, the Load Balancer can again route logins to that of an available server,
assisting us in keeping Class available to you.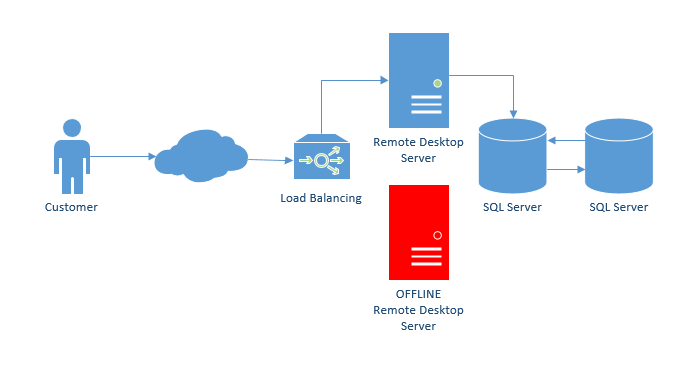 High Availability
Class Databases are hosted within a High Availability SQL Cluster. This means Databases will be
replicated over a number of SQL Servers. Should a SQL Server node encounter an issue, again it can
be removed from the Cluster and maintenance completed, with a seamless switch over that you will
not notice.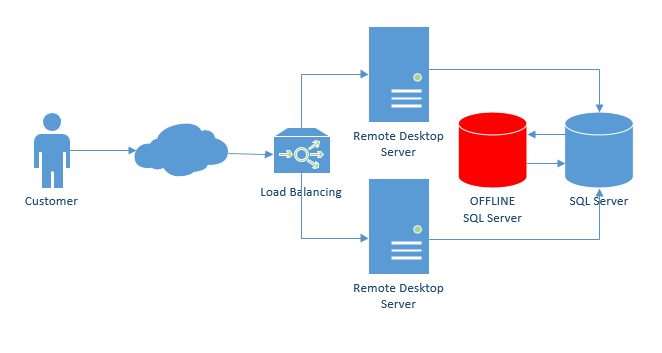 Our Engineers will be proactively monitoring the health and performance of our Infrastructure Farm.
As a result, the total number of Remote Desktop & SQL Servers available on our Infrastructure will
vary, based on current and predicted load. As an example, more servers will be available over
summer as this is a particularly busy period. The below diagram explains the current set up
infrastructure scheme.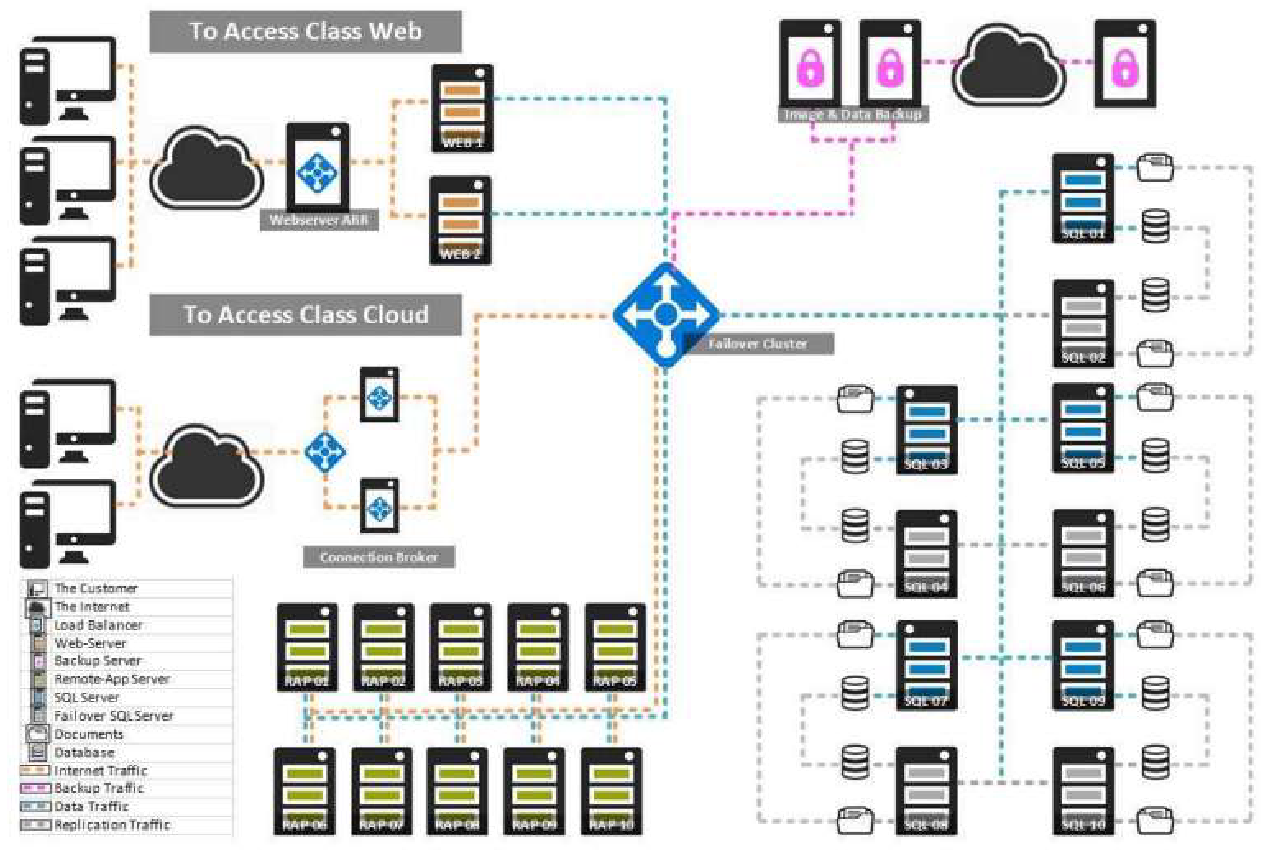 Backups
In addition to the redundancy steps we have taken above, we have also introduced a robust backup
plan to protect against worst case scenarios, to prevent corruption and/or data loss. Your data will
be stored in at least two separate datacentres at all times.
1 – All servers within our Infrastructure are mirrored, so data is protected from a loss of a single disk
2 – Backups are pushed every 15 minutes to a place in a different storage location
3 – From that backup, an incremental backup is pushed to a different datacentre
4 – Incremental backups are retained for up to 90 days, are AES-256 encrypted and protected from
malicious attacks by utilizing immutable storage.
User Desktop Technical Requirement
In order to access the Cloud, your users will need the following minimum PC specification:
Microsoft Windows 10
Access to Remote Desktop 8.0 or above
Internet Explorer 10 or above
Ability to install Microsoft Remote Desktop
Class Online Toolkit (COT) Module
For customers on Class Cloud:
The COT booking templates will simply be placed on our cloud infrastructure and we will work with you to integrate these onto your website.
For customers not on Class Cloud:
The Online Toolkit module uses a .net dll to allow communications between your website and the Class database. The .net dll needs to be situated on a server (within the local network running Class) that has direct access to the Internet; typically this would be on a web server or an exchange server, where the server security protocols can be configured to protect access.
Next Steps
We look forward to welcoming you on board as a Class Cloud customer.
In order to discuss next steps, please contact us on sales@infospeed.co.uk.