Enrolments
Browse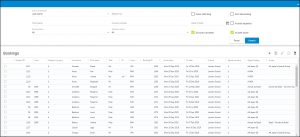 Students can be found by searching for any one of many criteria such as surname, first name, invoice number etc. and when your memory deserts you, fragment (close matching) searches are also available.
Provisional bookings are shown in red (and can be optionally excluded from any searches) and multiple lines for a student reflect multiple enrolments. Once you find who you are looking for, simply double click on that student and their full details are automatically shown.
Easy to find student using many search options
Quick view panel at bottom of screen, for highlighted enrolment
Confirmed and provisional booking options
Booking Types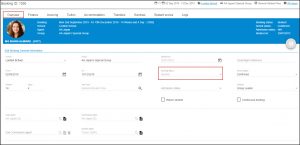 Enquiry – normally a simple email or printed letter with no booking
Provisional booking – normally a booking that requires a range of documents to be produced, e.g. a proforma invoice and a certificate of enrolment, but dates are uncertain (perhaps a visa is needed) and offer needs to be excluded from expected arrivals; until the booking is confirmed
Confirmed booking – a booking that is from a recognised agent or a direct booking where perhaps a deposit has been paid
Web Booking – If you choose the Class Online Toolkit module then you will receive bookings into a holding/review area in Class. These web bookings can then be accepted into Class once all of the details have been checked.  Web bookings have a "web" prefix so that they can be easily identified.
Booking Accommodation
Class has a comprehensive Accommodation section allow students to be placed in Host Family, Residential, Hotel and own accommodation ensure you know how to get in touch with the student at any time.
Allows multiple families for the same student (student moves family)
Merge information for letter/email to family
Matching against specific criteria ( allergies, dietary requirements)
Standard and Bespoke Pricing to charge the Student/Agent
Standard and Bespoke Rates for paying host families + batch bank payment routines
Local address box, if student stays in own accommodation
Accommodation Matching

Students can be matched with families against criteria you have created. Using the optional Advanced Accommodation Module, this can be done on single on screen view.
Lists families that match criteria (smoking/pets etc.) and are available
Bottom panel shows students in accommodation at same time
Full details of each family (click tabs at top – Details, Students etc.)
Text message option (SMS) to all or selected families
Transfers/Pickups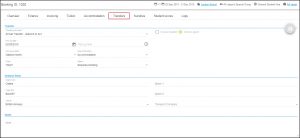 Organise all of your weekly and weekend arrival and departure transfers from with Class. Individual and group reports can be created to ensure everything runs smoothly.
Six user defined fields are available (e.g. drop down list of your Taxi/Coach providers)
Standard reports are available for taxi/coach lists
Finance/Pricing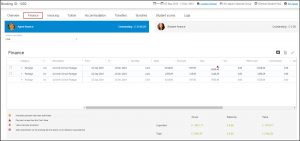 The core module of Class includes comprehensive pricing and invoicing capabilities. With the addition of the optional and very popular Ledger Module Class can handle payments coming in from the Agent /Student enabling you to constantly monitor your students and agents outstanding debt across your organisation.
Prices automatically calculated based on the Agent's pricing rules
Gross and Net value shown
Dual billing – Agent and Student can be invoiced for different parts of the booking
Prices can be changed (subject to permission)
Changes logged and available for analysis
Comment field for explaining manual changes
Each finance line contains a Nominal Code for accounting purposes
Invoicing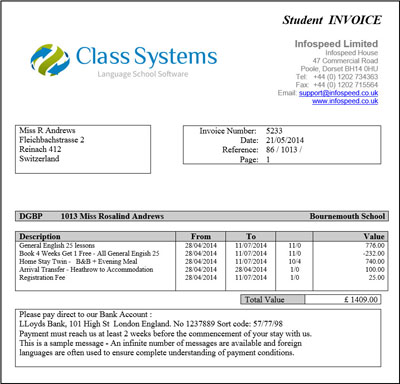 Class can handle proforma, agent and student invoicing which can be tailored to your requirements.
Proformas, Invoices, Gross (to the Student) Net to the Agent, are all available
User definable invoice layouts with your company header – 6 standard layouts provided
Bottom section allows bank details, or any other message to be added
Documentation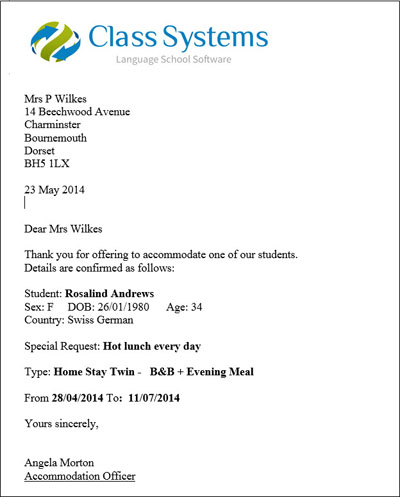 Any documents sent directly out of Class will automatically be saved with your enrolment to be recalled at any time. Additional documents can be scanned into Class.
Documentation in Microsoft Word
Word Templates, user definable
1500 fields can be inserted from Class including photos
Merged documents can be edited and saved in edited form
Email option direct from Class
Document Storage against the student / enrolment