Web Integration
Class Online Toolkit Module: Online Bookings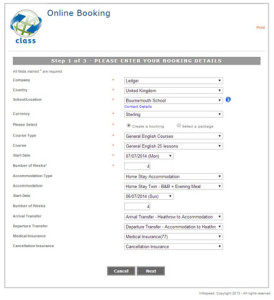 The Class Online Toolkit Module gives you advanced integration of Class to your web site bookings. Class Online Toolkit allows online bookings to enter straight into Class (web bookings once in Class holding area are accepted into Class by your admin team), so there is no longer the need for two systems to be maintained (web pages and Class) or for online bookings to be re-entered. Of course a web page designed to reflect your corporate image is still required, but the product, pricing, and availability content is taken live from Class.
For example, the products you sell (courses, accommodation, transfers and sundries), their price, availability, intake dates, multi-language descriptions, age restrictions, etc., are provided/controlled by Class. As your products and prices change in Class, your online booking/enquiry form is automatically kept up-to-date. Online bookings via the Web, either from a Student or an Agent are automatically transferred to Class and can be verified and edited in Class before being converted into confirmed enrolments. Enquiries may also be directly transferred into Class.
An Agent for example can see (subject to appropriate protections) a complete history of bookings, including finance and attendance. A Student is only able to see his/her own bookings (subject to appropriate protections) while host families can access the students' details online as well.
Class Online Toolkit can be completely customised to include online payment, instant fee calculation and other features.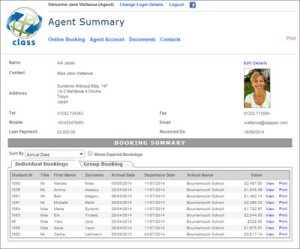 Key Features (depending on permission given)
On Line Bookings – Agents and Direct Students
On line View options – Agents, Students, and Homestay Providers
View booking information (Courses, accommodation, transfers etc.)
Homestay Providers (Change details, Amend Room Availability)
Accounting (Ledger users only – view payments, balances etc.)