Class Systems: 30 Years, 30 Tips!
No Comments Posted on 05/12/18 in Category New Customers, News, Product News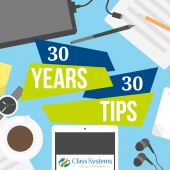 2019 marks the 30-year anniversary for Class! Look out for special announcements throughout the year.
Over the months and years, we've shared loads of little tips to help our 2,500+ customers use Class more effectively.
Today, to kick off the celebrations of our 30-year anniversary, we've gathered up our 30 top tips to share some neat little tricks you may not have known about that make Class so special.
See all 30 tips below and contact us if you have any questions …
> Read More